Still firing with both barrels.
So, we had a holiday, and then I got real sick, but now I'm back for an update on the giraffe egg and the Jeter egg.
 The Jeter Egg
This one so far has been easier than the previous one. With a solid plan and some tricks on how to do it without losing a whole mess of eggs in the process, I've managed to get this second egg in the NYY series (there's a third one coming after this one) to the point where all that's left is the painted image on the back.  But I'll get to that in a minute.
Right now, the sides of the egg basically match the style of the last one- that is to say, bats and balls (with teeny red stitches) on a blue background.  The front is a little different. Instead of the baseball + stitching it's a jersey number + pinstripes. Let me tell you, these pinstripes are a pain in the ass to paint. Im sure there's people in the world who are really good at this naturally? I dont know who they are. I just winged it and did my best but it looks pretty good.  I've put a quick sealer coat on it so I can move on to working on the back side, which is the famous image of Derek Jeter diving into the stands at Yankee Stadium in July of 2004.  I'm not sure how much detail I can get in a 2″x1.5″ space, but I'll see what I can do.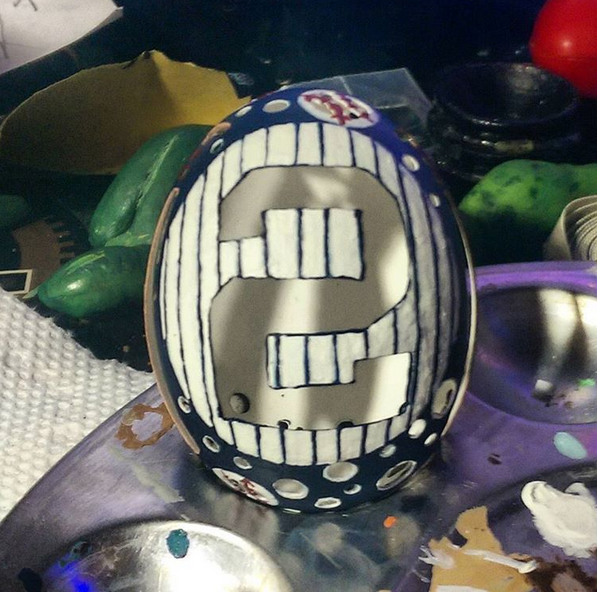 2. The Giraffe Egg.
The egg itself is actually finished.  The thing that's taking oodles of time right now is the stand, which I may have gotten a little carried away with.  It was such a cool idea in my head, and Im sure it will be cool when it's done but the stand is taking some time, as it's a lot of actual sculpting to do.  The idea was to basically use the egg like a "body" and make the stand into feet.  But because I didn't want the giraffe to be standing (where one good smack with a vacuum cleaner could send it flying from a stand, down several inches) I made the giraffe legs lying down instead, so it would be much closer to the ground plane.  This isn't difficult, per se, but it is time consuming. This has been compounded by a malfunctioning vacuum cleaner (I don't want to continue to sculpt until I can vacuum up the mess it creates.)  but I am hoping to fix the errant Dyson today. In the meantime though I seem to have become an accidental surrealist.   It will make slightly more sense when it's painted.
Slightly.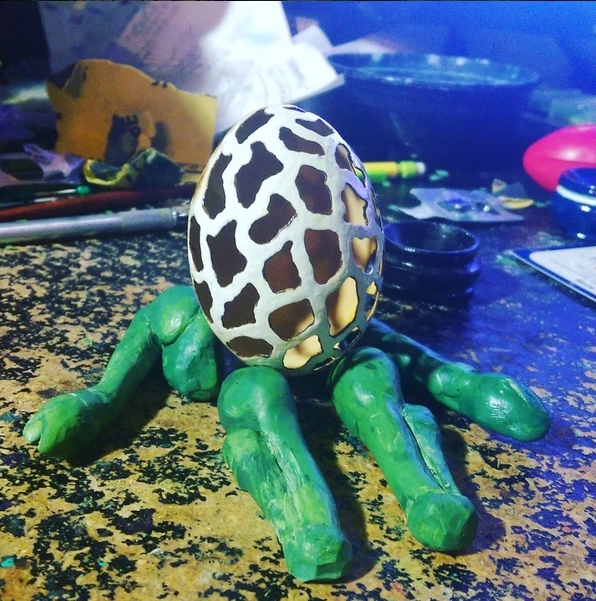 In other news, you have two days left to order from the Etsy store to be sure to get whatever it is by Xmas. Which I hope you do. Because I'd love to see some of this neat stuff get great forever homes this month.