The Old Stadium, After the Reconstruction.
Back in September, I got an email from someone who wanted to know if I'd be willing to consider doing a baseball themed egg. I'm not sure why he thought I might say no, but I was happy to give it a shot. It helped that it was a NY Yankees themed egg.  Not specifically because I'm a Yankees fan, though I am, (I was born here, I get to do that.) but because what he wanted specifically was something to commemorate the old stadium building. I've been in that building countless times since childhood, so I felt confident that I could at least make a decent try of it.
This egg took months to do, and I mean that literally.  The logo on the front side is an almost impossible thing to carve, due to its inherent design.  I broke quite a number of them before I found a trick to let me get it to hold up long enough to have the egg make it to the bleaching process. Though the NYY logo is an iconic (and honestly brilliant) little piece of graphic design, it does not do well as a thing carved into an egg. Seriously, it's a giant pain in the ass to do, and I was only able to accomplish it through the use of a glue resist- that is to say, I painted the logo with glue in order to absorb some of the carving vibrations. It's an imperfect technique and I got imperfect results, but it got me there, so I'll take it.
The sides are dotted with a combination of dots, bats and teeny little baseballs (yes, I painted stitches on them.)   But I was really worried about painting the back side, as transferring a flat image (I was using a photo for reference) to a round surface is a little tricky, especially at that size.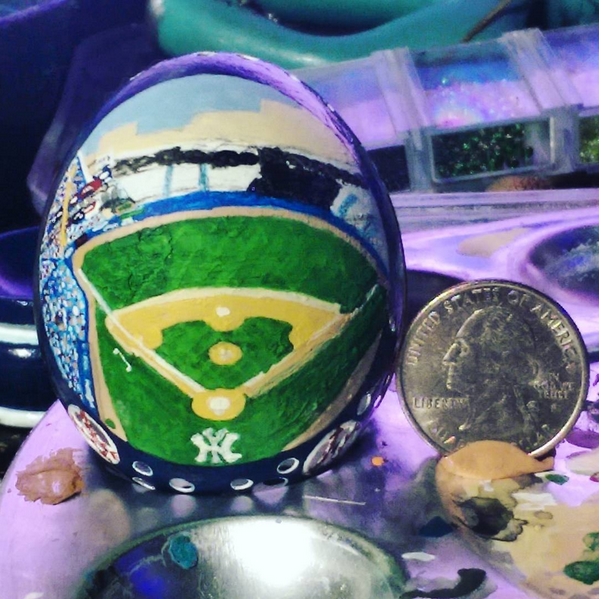 This is a process shot, obviously, but it clearly gives you an idea of how big the egg is. (Um, if you're in the UK that's roughly the same diameter as a pound coin.)  The painted area is approximately 2″ high by 1.5″ across. (about 5cm x 3.9cm). Due to the satin finish on the egg, and the lighting, it's a little difficult to see all of it, but I have a shot I took before I did the final touchups and sealant.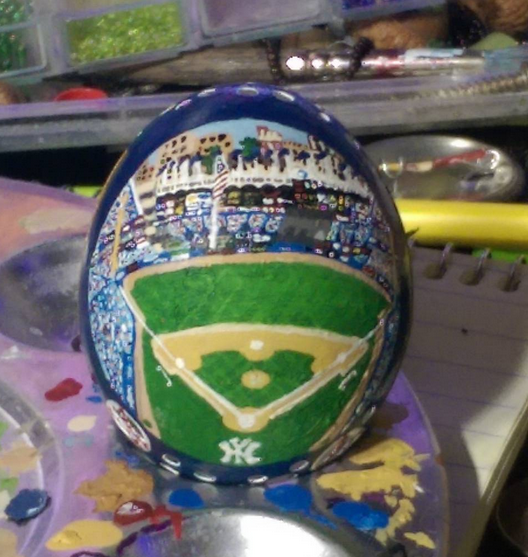 As usual, I have side/top/bottom photos as well.
So I hope to ship it out on Monday.  Play ball. Or something.