Even Legends Start Small.
Isn't he cute? One wee eldritch horror, now ready.  I finished it last night whilst binge watching an absolute ton of Face-Off(and if you don't watch it, you probably should. It's freaking incredible and makes me totally not miss design school at all. I remember those kinds of deadlines. Weekly. For years. Yeah, I don't miss it.)
He really didn't want to be painted. It took four tries to get a paint job on him I was happy with.  Seriously, at one point I repainted it white and started over. No muddy paint jobs for this tentacle monster. The interior of the egg is a lilac purple, and the exterior is a matte, lightly crackled finish of purples, greens, silver and black.  The tentacles are glossy (because all good tentacles should be) in green with green and silver beads for suckers.
People are often confused about the scale of these things. I do tell people that they're small but without some object to use to scale them it's difficult to understand. That happened this week when a friend of mine thought it was an ostrich egg on Instagram.  So I shot another process photo  to show scale.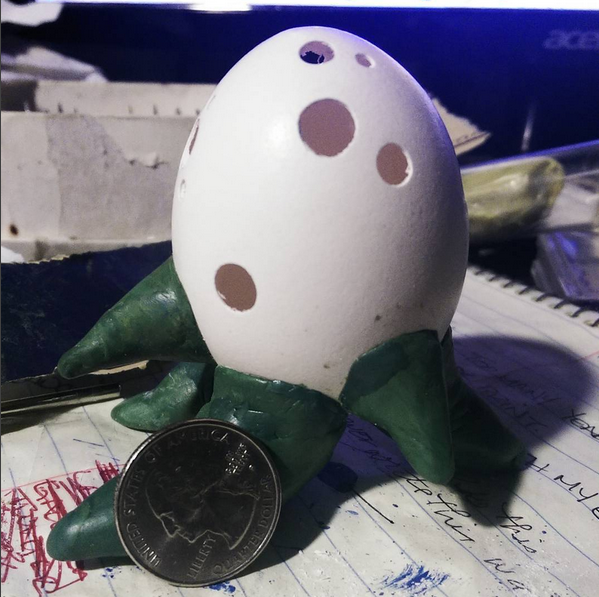 This probably helps.
The new light box is still a work in progress. I think it needs more and better lights. These photos were a bitch to shoot and I am *still* not loving that plain white background (sorry, I know, I know it looks bright and clean but I hate it.) But I got shots of the wee critter at all angles:




Even Legends Start Small – AVAILABLE (see "what's available" for details.)
This egg isn't sold yet (I don't expect it to last too long, though) and I already have my next idea (I blame Face-Off for that one too) but I really want to get another skull egg to work (they're WAY harder to carve than you think. That mouth is a killer.)  But I have to blow out some blanks first. Which I'll do today.
Speaking of instagram I put a widget over in the side bar, as I tend to post more process shots there as I go.  Feel free to add it but be warned I also use it for random photos of my cats, NYC, random goth stuff, and stupid things I do with my hair(so many victory rolls. so many.)